Space Division Status Reports
Canadian Space Agency Proposals
We have completed a fairly detailed spacecraft design for the two missions we are proposing under the Mission Concepts section for the next STDP disbursement. We're in communications with our in-space relay spacecraft counterparts at NASA, who are building a relay mission demonstrating some experimental technologies including optical communications.
We're continuing to build our technology team for these projects in advance of the upcoming AO from the space agency. Please feel free to contact us concerning these projects.
TransOrbital, Inc. Status Report
We felt that we should give everyone an update on how TransOrbital has been coming along.
We have a feature story in Wired Magazine, and among about two thousand other press stories over the years, clippings from BBC News, Nature, CNN, Discovery Magazine, and National Geographic.

TransOrbital was the first private company to be granted historic regulatory approval to fly a commercial spacecraft beyond Earth orbit. We have also received an export license to ship the spacecraft to Russia for launch, which combined have required the completion of some 10 centimeters of paperwork.
TransOrbital has announced a deal with Hewlett-Packard to launch their wireless iPaq handheld computer along with the Trailblazer spacecraft. It will have communications software and will be tested and used operationally as a part of the sponsorship deal.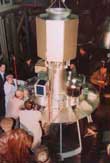 This makes TransOrbital second only to LunaCorp for signing a major corporate sponsorship deal to finance a space flight. A major component of our business model has always been to financially leverage the publicity and entertainment value of the space flight through high-profile sponsorships.
To the right is an image of the test article we launched into orbit on December 20, 2002. There's also an article circulated by the Associated Press that was picked up into MSNBC, about our launch contract.
(Direct Leap Technologies President and CEO Simon Rowland is one of the original founders and shareholders of TransOrbital, Inc., and did lots of work early on to help get TransOrbital started up.)